The D.I. Mendeleev All-Russian Institute for Metrology (VNIIM) news
Visit of a Delegation from NIM (P.R. of China) to VNIIM
VISIT OF A DELEGATION FROM NIM (P.R. of China) TO VNIIM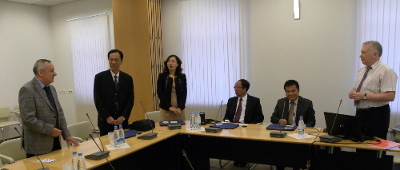 А delegation from the National Institute of Metrology (NIM) of the People's Republic of China headed by the Director, Dr. Zhang Yukuan, accompanied by Dr. Gao Wei, Director of Department of R&D, Management and International Cooperation, Dr. Quan Huiman, Director of Division of Strategic Studies, Dr. Gao Sitian, Director of Division of Nanometrology and Materials Metrology, Dr. Fang Zhanjun), Director of Division of Time and Frequency and Dr. Yang Ping, Senior Researcher of Division of Mechanics and Acoustics visited our Institute from 7 to 9 August 2013, to share information on respective activities of our National Metrology Institutes and to sign the Memorandum of Understanding as a basis for the cooperation between our Institutes for the next five years.
During the visit, the Chinese delegation, which was received by the Director of VNIIM, Dr. Nikolay I. Khanov, and his Deputies, Dr. Eugene P. Krivtsov and Dr. Yury A. Kustikov, the ways and topics of future cooperation between our two NMIs under the newly signed MoU were discussed.
The Director of NIM expressed interest in the future cooperation with VNIIM in a number of fields of the measurement science and the corresponding proposals of VNIIM were handed over to the Chinese delegation for further consideration.
In the course of the visit, the NIM delegation was familiarized with the work of some laboratories of the Analytical Department of VNIIM and with laboratories of calorimetry, length and force. At the end the Chinese delegation paid a visit to the Memorial Museum of D.I. Mendeleev, during which the Director of NIM signed the Distinguished Visitors Book.