The D.I. Mendeleev All-Russian Institute for Metrology (VNIIM) news
Visit of a Delegation of ONN of the Republic of Cuba to VNIIM
VISIT OF A DELEGATION OF THE NATIONAL OFFICE OF STANDARDIZATION (ONN) OF THE REPUBLIC OF CUBA TO VNIIM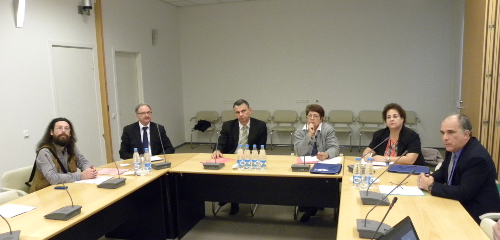 From 17 to 18 September, 2013, FGUP «D.I.Mendeleyev VNIIM» received a delegation from the National Office of Standardization (ONN) of the Republic of Cuba. The delegation was headed by the Director General, Dr. Nancy Rodriguez Fernandez, accompanied by members of the ONN, Ms. Teresa Infante Frometa, Head of the Department of International Cooperation, and Dr. Fernando Arruza, Head of the Metrology Department.
The delegation was attended by Deputy Directors of VNIIM, Dr. Eugene P. Krivtsov and Dr. Yury A. Kustikov. During the visit of the ONN delegation the issues of cooperation between the two institutions were discussed and the Protocol of intention in the area of commercial collaboration was signed.
The following issues were discussed among others:
Calibration of the national standards of the Republic of Cuba in 2013
Training for Cuban specialists at the premises of VNIIM in 2014-2019
Development and delivery of standard instruments to Republic of Cuba.
The head of the Cuban delegation expressed her heartfelt thanks to VNIIM Directors for the organiziation of the visit and invited an authorized person from VNIIM to visit the International Metrology Symposium in Havana, June 2014, in order to give a lecture about the achievements of VNIIM and to sign commercial agreements.