The D.I. Mendeleev All-Russian Institute for Metrology (VNIIM) news
Visit to VNIIM by the delegation of the Shanghai Municipal Bureau of Quality and Technical Supervision (SMBQTS)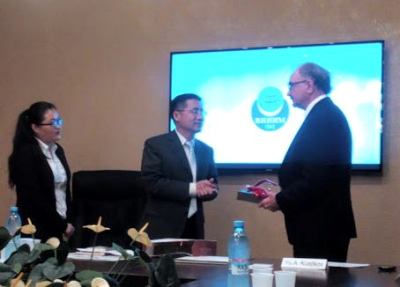 Visit to VNIIM by the delegation of the Shanghai Municipal Bureau of Quality and Technical Supervision (SMBQTS)
Friday, 28th August, VNIIM hosted the visit of the delegation of the Shanghai Municipal Bureau of Quality and Technical Supervision (SMBQTS) headed by Mr. JI Xiaoye, Deputy Director. Other members of the delegation were - Ms. ZHANG Lihong, Director of the Legal Department of the SMBQTS - Mr. LIU Chunyang, Director of the Certification Supervision of the SMBQTS, - Mr. SHOU Yongxiang, Vice Director, Shanghai Institute of Measurement and Testing Technology - Ms. CHEN Ye Vice Director, Shanghai Institute of Quality Inspection Technology. Participants from VNIIM were: - Mr. Yuri A. Kustikov, Deputy Director for International Work, - Mrs. Anna G. Chunovkina, Head of Metrology Dept., - Mr. Alexey B. Diatlev, Head of Dept. for International Cooperation in Metrology and Mutual Recognition, - Mr. Nikita D. Zvyagin, Scientific Secretary and Head of Legal Metrology Department.
During the visit of the SMBQTS delegation the areas of professional activities of the participants were discussed as well as possibilities and areas of cooperation. The SMBQTS delegation was familiarized with the work of a number of VNIIM laboratories (temperature, chemistry, length) and visited the Metrology Museum of the Rosstandart.
The Head of the Chinese delegation thanked VNIIM for the organization and the conduct of the visit and manifested the interest of the delegation members in establishing the cooperation and continuing the contacts by correspondence and mutual visits. The leaders of VNIIM were invited to pay a return visit to the SMBQTS.