The D.I. Mendeleev All-Russian Institute for Metrology (VNIIM) news
Visit of specialists from the UME (National Metrology Institute of Turkey) to the D.I. Mendeleyev Institute for Metrology (VNIIM) from 28 Sept. to 2 Oct. 2015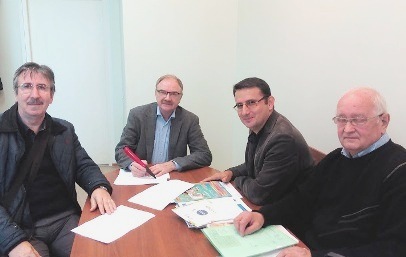 Visit of specialists from the UME (National Metrology Institute of Turkey) to the D.I. Mendeleyev Institute for Metrology (VNIIM) from 28 Sept. to 2 Oct. 2015
During the meeting of Dr. Bulent Unsal, Deputy Director of UME, and Dr. Rifat Kangi, Head of the Vacuum Laboratory of UME with Dr. Yuri Kustikov, Deputy Director of VNIIM, and principal specialists of VNIIM, including Dr. Vladimir Gorobey, Head of Pressure Dept., presentations about VNIIM and UME were given with subsequent exchange of opinions and discussions. Specialists of UME were familiarized with the State Primary Standards and the work carried out at VNIIM in the following field of measurements: pressure and vacuum, linear measurements, mass, force, analytical measurements (hydrocarbon mixtures), combustion calorimetry, gravimetry.
During the visit the work of VNIIM in specific fields of measurement were presented (angle accelerations, gravimetry, low absolute pressure). The results were discussed. The work of VNIIM and UME was given a high appreciation. Members of the UME delegation were familiarized with the history of VNIIM in course of the visit to the Metrology Museum of Rosstandart.
VNIIM and UME agreed to sign a Memorandum of Understanding by the Directors of both institutes, in the framework of which it had already been decided to undertake a number of joint investigations in the field of calorimetry, gravimetry, measurements of molecular flows, pressure, etc.