The D.I. Mendeleev All-Russian Institute for Metrology (VNIIM) news
VNIIM discussed issues of international metrology, certification, and standardization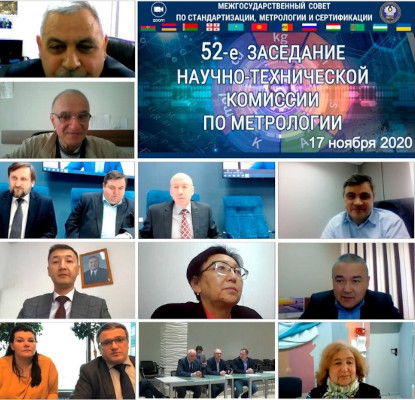 Representatives of the D.I. Mendeleyev Institute for Metrology took part in the 52nd online meeting of the Scientific and Technical Commission on Metrology (NTKMetr) under the Euro-Asian Council for Standardization, Metrology and Certification (EASC). VNIIM delegation was composed of Chairmen of Working Groups on Reference Materials (RMWG), International Comparisons Testing (ICTWG), and Non-Destructive Testing (NDTWG).
NDTWG Chairperson and VNIIM Deputy General Director on Science, Konstantin V. Chekirda, reported on the progress in implementing the decisions of the last meeting. RMWG Chairperson S. Medvedevskikh and ICTWG Chairperson O. Ponomareva of UNIIM – branch of D.I. Mendeleyev Institute for Metrology discussed the following issues: recognition of national reference materials of Belarus, Kazakhstan, and Russia as national reference materials (NRMs); and implementation and updating of the Program for development and revision of the underlying documents of traceability system.
ICTWG presented work results for 2019–2020 and initiated discussions of plans for 2021. The Draft Certificate of an ICT Participant necessary to confirm participation of laboratories in interstate programs, sparked a heated debate.