The D.I. Mendeleev All-Russian Institute for Metrology (VNIIM) news
VNIIM takes part in COOMET TC 1.9 Meeting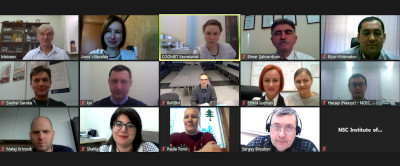 The 17th Online Meeting of COOMET TC 1.9 Ionizing Radiation and Radioactivity was held on November 30, 2020.
Specialists from 8 COOMET Member States (Azerbaijan, Belarus, Kazakhstan, Moldova, Russia, Slovakia, Uzbekistan, and Ukraine) and the IAEA Representative discussed implementation of current and future topics, as well as realization of COOMET Development Program activities.
Nikolai N. Moiseev, TC 1.9 Chairman and Head of Neutron Measurements Laboratory at VNIIM, states that next year the Institute is to complete previously initiated works and will begin preparations for a new international COOMET comparison as Coordinator.