The D.I. Mendeleev All-Russian Institute for Metrology (VNIIM) news
Looking into the history: Main Chamber of Weights and Measures Chronicles. VNIIM electronic library invites readers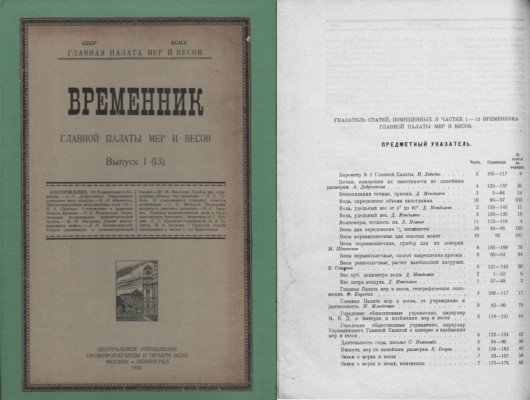 Collection of books and journals of the Metrology Museum and Research Library of VNIIM contains unique publications on the history of metrology from late 19th – early 20th centuries. Among them, the first metrological journal in Russia – Main Chamber of Weights and Measures Chronicles -occupies a particular place, all 16 issues of which can be found in the VNIIM electronic library. Subject index and index of names for the first 12 issues of the Chronicles are included in vol. 1(13), 1925.
Among the rarities preserved exclusively in the Metrological Museum is the first issue of the Chronicles autographed by D.I. Mendeleyev that he ordered to always be held on his office desk. It contains the "Regulations of the Main Chamber of Weights and Measures" which defines the purpose of the Chamber and its main tasks, and also a foreword written by Mendeleyev with a short overview of the history of the Chamber. Journals donated to the Museum from private libraries of the oldest employees (A.N. Dobrokhotov, M.N. Mladentsev, A.K. Kolosov) contain their bookplates.
Materials published in the Chronicles are an important source fully revealing the essence of Mendeleyev's metrological reform and the course of its implementation in Russia.
In 1932, a monument to Mendeleyev by I.Ya. Gintzburg was installed in the Chamber's garden square. The scientist is sculptured with an open book in his hands, and next to him there is a journal titled "Main Chamber of Weights and Measures Chronicles" – in that way the publication was immortalized in bronze.