The D.I. Mendeleev All-Russian Institute for Metrology (VNIIM) news
Participation in the first metrology demo-exam according to WorldSkills standards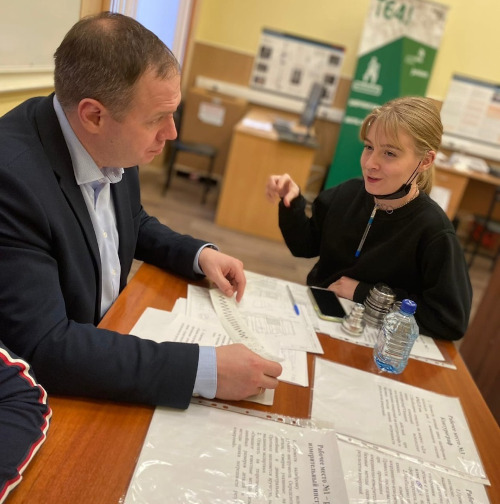 Representatives of VNIIM acted as independent experts in the first demo-exam on WorldSkills standards in the competence "Digital Metrology". The exam was held on the basis of GUAP (State University of Aviation Instrumentation.
The Deputy Director General of VNIIM, Konstantin Chekirda, Deputy Head of Liquid Density and Viscosity Measurements, Anastasia Neklyudova, and Head of Section for Thermophysical Quantities, Vladislav Mikheev checked, during the exam, the compliance with the WorldSkills requirements, especially those concerning the correctness of the measurement tasks and verification of theoretical knowledge.
All 50 examinees received the Skills passport as a confirmation of the students´ high qualifications. Among the companies that recognize this document are Rosatom State Corporation, the United Aircraft Corporation (UAC), 1C, the German manufacturer of industrial robots and solutions for production automation KUKA, and the machine tool manufacturer DMG Mori.
The WorldSkills demo-examination is a form of the state final certification of graduates of secondary professional education programs of educational institutions of higher and secondary professional education. The purpose of the demonstration examination according to the WorldSkills Russia standards is to determine the level of knowledge, skills and practical abilities of the examinees in conditions of real measuring processes in accordance with the standards of the WorldSkills Russia.