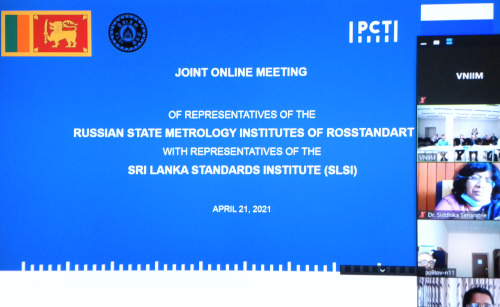 April, 2021 marks start of the Russian-Sri Lankan cooperation in the field of standardization and metrology. The first online meeting of Rosstandart NMIs and Sri Lanka Standards Institute (SLSI) experts was held in the D.I. Mendeleyev Institute of Metrology (VNIIM).
Its Agenda included discussion of issues regarding standardization, product certification, laboratory testing, calibration, and training. SLSI is the National Standards Body of Sri Lanka and plays an important role in the country's economy. The SLSI Director General, Dr. Shiddhika Senaratne, made an overview of the national metrology system of Sri Lanka and activities of the SLSI in those areas and pointed out the interest of Sri Lanka in assistance of Russian Metrology Institutes in improving length, strength, and temperature measuring technologies, and development of laboratory medicine, chemical and bioanalytical research.
Specialists of VNIIM, its affiliated branch UNIIM, and other Russian Institutes - VNIIFTRI, VNIIOFI, and VNIIMS - presented their views on areas and opportunities for cooperation. Specialists of VNIIM provided an overview of their experience in improving and development of measurement standards in the field of thermometry, mass and force, geometric measurements, bioanalytical and medical measurements, and measurements of physical processes in air and liquid media.